Plum seed oil, huile d'amandons de Pruneaux d'Agen IGP Lot et Garonne
French gastronomy first used plum seed oil (
huile d'amandons de pruneaux
) as a substitute for almond oil in confectionary dishes. However, chefs soon found its marzipan-like flavor to be richer, more complex and subtle than almond oil and started using it in creations beyond sweets. Although the oil does not have a "plum aroma" per se, its flavor and perfume is both delicate and distinct. Rich in vitamin E, plum oil has no trans-fats and can be heated to 180ºC during frying.
In the heart of France's d'Agen prune country
The Ente plum, known for its dried version,
Pruneaux d'Agen
, is protected for its unique sweetness and size, which also make it ideal for plum seed oil. The Vidalou orchards of Pujols, where rich 13th century architecture overlooks rows of some 20,000 plum trees, are the home of the now famous huile d'amandons de Pruneaux d'Agen. The farm devised proprietary technology to break the shells of the plum pits and extract oil from the kernels inside, receiving approval from the French Food Safety Board and EU Novel Food Committee in 2001. Since then the oil has won numerous awards, including the 2002 SIAL Gold Medal and the 2005 Hubert Curien Prize for technological achievement and contribution to a greener environment.
From bakery to entrées
Drizzle over warm entrées as an enticing finishing oil; stir into traditional baking recipes; blend into marinades, salad dressings, vinaigrettes and sauces - the rich aroma of plum oil subtly balances sweet, salty and other flavors. Winning combinations include Armagnac and plum oil over ice cream, strawberry and plum oil in salad dressing, dark chocolate and plum oil in baked goods, and plum oil on sushi or with tapas. It can be mixed with other oils (e.g. with olive oil and lime juice for a vinaigrette) or sprinkled simply over fresh lettuce. As the flavor is very rich, only a few drops are needed.
An explosion of flavors
Whether frying with plum oil, marinating fish or balancing with other spices, plum oil's perfume delicately blends with other ingredients to create exciting new dishes, as demonstrated by many
award-winning chefs
. We offer
scores of recipes
, but this original product, with its strong character, enchanting perfume and healthy profile is a provocation in itself - come visit us for a sample!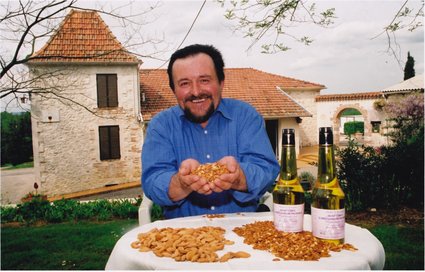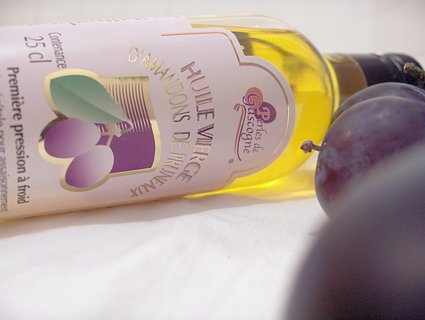 Cold-pressed Seed Oils from Austria
Highest quality, best selection
We offer you the finest oils available from carefully selected naturally grown oil seeds of certified regional origin. The cold-press process is followed by one week of rest (allowing all sediments to settle out) to ensure pure product with visible clarity.
All oils are 100% natural and virgin first press. No additives.
Recipes using seed oils (in German)
Argan oil - RARE From the seeds of the semi-desert argan tree, an ancient species originating over 25 million years ago. Now only cultivated in a protected 25,900 sq km UNESCO biosphere reserve in southwestern Morocco, the trees, which can grow over 200 years, yield only 1 liter of oil annually, making their oil very rare and expensive.

Argan oil has a distinctive, roasted, nutty and exotic flavor. Healthy and versatile. Refines cold vegetables soups, enhances salads, couscous and cremes. As a dressing on meat or fish or a dip for breads.

Almond oil Noble, sweet with fine roasted taste and long lasting flavor. Reminiscent of fresh baked goods, for use in vegetable and fish dishes, salads, sauces, and desserts. Also in oriental curries.

Apricot oil From highest quality sweet apricot stones. Subtle nutty-almond flavor with a pleasant touch of marzipan. For exotic salads, spicy sauces for game dishes, and desserts.

Beechnut oil - NEW! From the cold pressing of roasted beechnuts of the red beech tree, Fagus sylvaticus. Golden-yellow color and a delicious nutty flavor give a discreet woody-fruity impression. Perfect for mushrooms, veg, fish and game dishes, as well as wonderfully refining soups, salads, sauces and pastas.

Chiliseed oil - NEW! Cold pressed from the seeds of raw chilis with an intensive fruity-spicy aroma and noble, powerful flavor. Deep red color, thick, viscous texture. Smaller doses recommended for steaks, grill and pasta dishes, as well as Asian cuisine. A wonderful surprise in vegetable cream soups and chocolate desserts!

Chufa oil Cyperus esculentus, or "ground almond," is a grass-like plant cultivated for millennia in the Mediterranean and North African regions. Very pleasant taste of sweet almond, earth, and hazelnuts. Dark golden color. Excellent for parfaits, fruit salads, desserts, pastries. Wonderfully refines salads, sauces, and pasta dishes.

Grape seed oil From the seeds of the Austrian Zweigelt grape. Golden color with light green. A fruity-grape flavor with an accent of wine flavor. High smoke point (> 200° C) makes it ideal for frying and roasting game, meat and vegetables. Also complements leaf salads, cheeses, mushrooms and fruits.

Hazelnut oil Subtle yet intense aroma from gently toasted and pressed DOP Nocciola Piemontese. Excellent for sweet dishes, as well as salads, soups, and sauces.

Pistachio oil Highly aromatic, from premium Iranian pistachios. Fine, mild, nutty flavor with a roasted note. Deep green color. Accents creamy desserts, vegetables, pasta and fish dishes. On salads with citrus juice or very mild vinegars.

Poppyseed oil Light, tart poppy flavor, from DOP Austrian Waldviertel poppies. Very delicate, refines sauces and soups, excellent in sweet baked goods.

Pumpkin seed oil This Austrian specialty is made from sun-dried Styrian pumpkin seeds. Dark green color, full nutty flavor, robust. For salads, soups, noodles, rice, pastry. Low smoke point. Very healthy.

Sesame seed oil Lightly roasted seeds, mild nutty aroma with a pleasant, persistent sesame flavor. Rich yellow color. For desserts and salads, and, of course, oriental cooking.

Sour cherry pit oil - available now! Golden-yellow in color with an elegant marzipan aroma and a slight fruity note, sensuous. Refines vegetable soups, sauces, game dishes, salads, desserts, and aromatic cheeses. Also evokes wonderful flavors from fruits and chocolate.

Tomato seed oil - NEW! Beautiful orange with delicate aroma of sun-dried tomatoes. Particularly apt for fish and pasta dishes, salads, cheese or spreads. Blends wonderfully with fresh herbs.

Walnut oil Delicate bitter flavor, golden, aromatic, from Styrian and Burgenland walnuts. Ideal for fine salads, soups, sauces and on pastas with walnut pesto.


Other specialty oils

Ginger and mustard seed oils Classic Indian oils, used for frying and adding spicy flavor.